NGUYEN HOA HAI DANG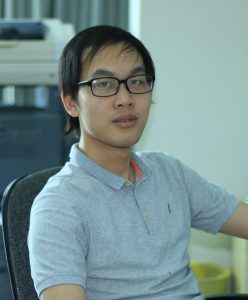 Joined in: August 2011
Hometown: Ho Chi Minh City
Hobbies: Game

Joined the company in 2011, firstly, I was interested in technology and not knowing anything about Japan, but whilst working and studying as well as a business trip in Japan, I have gradually loved their culture and working style.
At first, because of the language barrier and a not so good technical knowledge, I had lots of obstacles, but thanks to the other members and the Japanese team members who helped me enthusiastically, I could keep pace with job and mature gradually.
My motto is "share to be shared".
Technology is changing every day. If we positively teach ourselves, while sharing, listening and learning from other members, we can work much more effectively.
J&V Solutions working environment is also very good. Staff are young and dynamic. They always make it easier to develop together.
I hope that there will be more new members joining in J&V Solutions. Although our company is young, I believe that we will succeed together in the near future with inquisitive spirit and clear objectives.