NGUYEN QUANG TU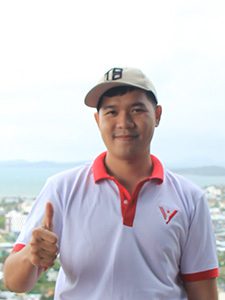 Joined in: September 2019
Hometown: Binh Duong Province
Graduated: HCMC University of Food Industry
Hobbies: Music, sports, travelling…
Life quote: Do their best when you are young, no regret when you get old.
I joined the company at the end of 2019, this is the second company I joined after graduation.
At the company, I clearly feel the Japanese working culture, a professional and challenging environment.
The company has many projects with many different technologies, the right environment to cultivate professional knowledge. As a technology lover, I am always ready to challenge myself with any projects involved.
Young and dynamic boss always listens to employees' opinions, ready to change for the better.
The company mainly develops projects for its Japanese parent company, but is currently expanding, building and developing projects for the Vietnamese market. I am very excited and welcoming you to join the team, let's fight these exciting projects together!